Welcome to the PENGUINDRUM STATION!

Your one-stop center for all things related to Mawaru-Penguindrum.


By Revolunary Girl Utena and Sailor Moon's director/writer Ikuhara Kunihiko comes his newest animated series, Mawaru-Penguindrum.
Mawaru-Penguindrum is a 24-episode original show produced by Brians Base, about three siblings: twin brothers Kanba and Shōma, and their terminally ill younger sister, Himari .
One simple day the three go to the aquarium and Himari collapses. It is only thanks to the intervention of a strange entity she is saved... at least temporarily. In return for resurrecting their sister's life, Kanba and Shoma must seek out the Penguin Drum with the help of three penguin companions.
Cute penguins, fighting fate, and bearing sins, and you've got the potential hit of the season!
Welcome! This is a free encyclopedic wiki that any fan can edit! Whether you want to add information to episodes, characters, locations, or just see a grammatical error you want to fix, you are welcome to do so!
95 articles have been created since July 8th 2011

Twitter

<twitteruser username=WikiaAnime limit=2 />

Series Media
Mawaru Penguindrum Wiki
Featured Article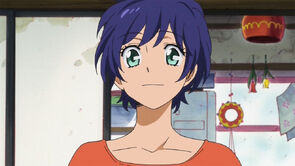 Shōma Takakura is Kanba's younger twin brother. His personality is the exact opposite of Kanba and he's ignorant and pure in aspects of love. He also has a handy side, such as doing almost all the housework in the Takakura household by himself. ...Read More
Community content is available under
CC-BY-SA
unless otherwise noted.