For other uses of this name, see Mawaru-Penguindrum (disambiguation).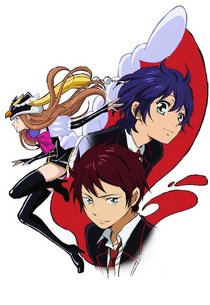 Mawaru-Penguindrum (輪るピングドラム Mawaru Pingudoramu) is a 2011 anime series produced by Brain's Base. The series is directed and co-written by Kunihiko Ikuhara and began airing on in Japan from July 7, 2011. The story begins when a terminally ill girl named Himari Takakura is miraculously saved from death by a strange spirit who resides in a penguin-shaped hat. However, in exchange for extending her life, the spirit tasks Himari's brothers, Kanba and Shouma, to seek out an item known as the Penguin Drum with assistance from a trio of strange penguins.
Episode List
Edit
Main article: Episode Guide
Staff and Cast
Edit

Director : Kunihiko Ikuhara
Original Work : Ikuni Chowder
Character Concepts : Lily Hoshino
Series Composition : Kunihiko Ikuhara, Takayo Ikami
Character Design : Terumi Nishii
Art Director : Chieko Nakamura, Kentaro Akiyama
Color Design : Kunio Tsujita
Editing : Shigeru Nishiyama
Music : Yukari Hashimoto
Music Production : Starchild Records
Sound Director : Kunihiko Ikuhara, You Yamada
Sound Effects : Tomokazu Mitsui
Assistant Director : Mitsue Yamazaki
Chief Director : Shouko Nakamura
Animation Production : Brains Base


Kanba Takakura : Subaru Kimura
Shōma Takakura : Ryohei Kimura
Himari Takakura : Miho Arakawa
Ringo Oginome : Marie Miyake
Katsuragi Taro : Katsuragi Taro
Yuri Tokikago : Mamiko Noto
Masako Natsume : Yui Horie
Promotional Art
Edit
Leading up to the series release, there had been several graphics on the website counting down to the premiere date. This section also include other promotional art
Magazine Articles
Edit
Extra Art by Lily Hoshino
Edit
For more, see category:Art by Hoshino Lily.
Hoshino Lily is a manga artist known mostly through her BL works, though she has worked on seinen and Dōjinshi comics as well. She is also the character designer of Mawaru-Penguindrum, and has worked on other supplementary work, including the end cards of episodes. She also shares drawings related to the series on her twitter. She is releasing a Mawaru Penguindrum artbook June 2012
Community content is available under
CC-BY-SA
unless otherwise noted.