Mario Natsume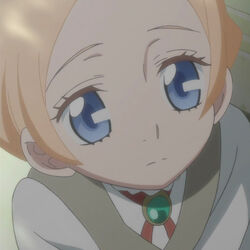 Character Basics
Japanese
夏芽 マリオ
Romanized
Natsume Mario
Seiyū
Kazusa Aranami
Debut
Episode 09
Biological Stats
Gender
Male
Race
Human
Biographical Information
Family
• Masako Natsume (Biological older sister)


• Kanba Takakura (Biological older brother)
• Sahei Natsume (Grandfather; Deceased)

Mario Natsume (夏芽 マリオ, Natsume Mario) is a young boy that is the younger brother of Masako Natsume who has a Penguin Hat like Himari Takakura's, but his has a little crown on the top.
This hat also has an "entity" that can control the body of Mario.
Personality
[
]
Mario is mysterious boy who bears the second penguin hat; he is the younger brother of Masako Natsume. He is a sickly boy that requires the penguin hat to live, like Himari Takakura. He is also next in line to lead the clan, being the only male heir. 
History
[
]
Like Masako Natsume, Mario also is a true biological sibling of Kanba Takakura, although the two are not seen in any direct interactions due to Mario's young age upon their separation.
Relationships
[
]
Masako is Mario's older sister. She cares a lot for him, even if it means eating the poisonous blowfish to free his grandfather's possession within him. As a result, she is trying to obtain Ringo Oginome's diary to free him from his illness.
Etymology
[
]
The name Mario has many meanings depending on the different languages:

In Latin, it means "hammer".
In Spanish/Italian, it means "Mars, Warlike".

Mario's surname Natsume means "summer" (夏) (natsu) and "bud, sprout" (芽) (me).
[

]